In mid-February of 2021, a record-breaking winter storm swept through the U.S., and in Texas, the electricity grid failed, resulting in more than 100 deaths and nearly $200 billion worth of damage, according to reports. The devastation left many wondering, "Why did the freezing temperatures impact the state to this extent?"
Approximately 90 percent of Texas relies on its own, separate power grid controlled by ERCOT, the Electric Reliability Council of Texas. In the days during and following the massive outage, the finger-pointing and blaming began. By using the Cause Mapping® method of root cause analysis, we can begin to understand the many causes that led to the failure and how a similar tragedy can be prevented in the future. This catastrophic incident impacted multiple goals: safety, production, customer and arguably more goals. It can be overwhelming to begin an incident investigation on an issue of this magnitude.
Here, we begin by asking Why questions, starting with, "Why was there an extended loss of electrical power?" From there, we continue to ask Why questions. By starting this way, a 3-Why Cause Map™ diagram may look like this:

This is a much more complex issue than a few Why questions, but to uncover more evidence-based details about the failure we must ask why and how it happened until we understand the causes. When the Arctic blast hit the U.S., for the Texas grid, demand exceeded supply despite the state's deregulated electricity marketplace, leaving millions without power and water for days in subfreezing temperatures. Upon further research, we learn that the available power supply went as low as 46 gigawatts, but the demand surged to 68 GWh, bringing the grid to the brink of failure.
By continuing to gather evidence and ask why the grid failure occurred, our Cause Map diagram expands. Click on the thumbnail below to download a PDF of the 22-Why.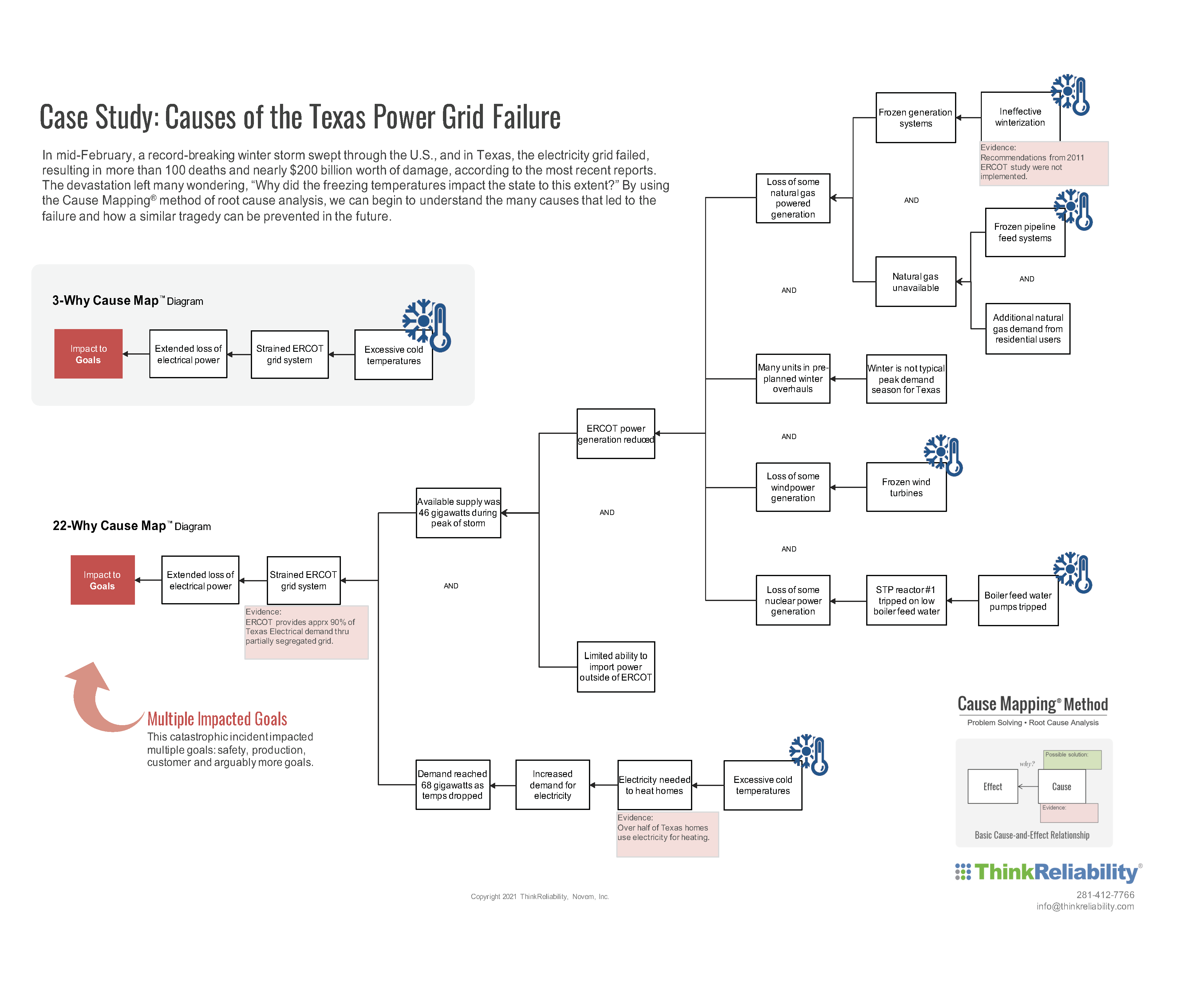 Of course, an incident of this magnitude should be analyzed to the level of detail required to find the best solutions to control the causes of the grid failure. A Cause Map diagram can expand to include more detailed information of what happened in February and why to the level of detail needed. For more information on the Cause Mapping method and how it can be used to analyze your organization's incidents, attend one of our upcoming free webinars or other trainings.