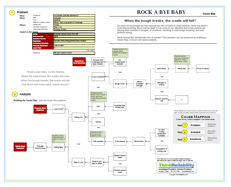 When the bow breaks, the cradle will fall?
As much as we thought we had reduced the risk of injury to small children, there has been a most disconcerting issue rearing itself. It has come to our attention that some parents are placing their children in boughs, of all places, resulting in said bough breaking, and said children falling
What caused this unfortunate turn of events?
That question can be answered by building a Cause Map, a visual root cause analysis. In the Cause Mapping process, the first step is to fill in an Outline with the background information for an issue as well as how the problem impacts the goals. For this unfortunate example: Safety goal is impacted as children are being put in perilous circumstances falling from the boughs of trees; and there are regulatory implications as children are being endangered by use of unsafe conditions and equipment.
We do not know exactly what property damage was done to the crib because we do not have any evidence indicating what the condition of the crib was in this sad incident. Once we have filled out the Outline, the next step is to ask "why" questions to find the different causes that contributed to the problem being analyzed.
So why were the child placed in a crib and then placed in the bough of a tree? This questions presents us with a number of potential paths of exploration. We do not know the parental rationale, but can add some potential causes to the Cause Map with several pathways for solutions.
And why was there no supplementary restrain system for the crib? A baby falling out of a tree is not a good thing!
These are several areas for further exploration. Even with the unanswered questions we are still able to look at proposed solutions that would reduce the risk of this.
For example, we should be able to check the weather reports and not put the crib in the bough of a tree on a day when the wind is expected to reach bough-breaking levels!
Or be sure we have a proper, NASA certified crib with the proper "bubble" protection (as with the early Mars rovers).
We could also use an OSHA spec tie-off system to ensure the crib is held in place even if the bough does break.
It might also be prudent to install a parachute deployment system on crib.
Or maybe we could just use a crib on the ground?
To view an Outline and a high level Cause Map for this issue, DOWNLOAD THE PDF.
Happy April Fool's Day from ThinkReliability!
Read more of our holiday posts:
The woeful tale of Jack & Jill
The year Christmas almost wasn't