As a kid, Halloween was one of my favorite holidays. It wasn't so much about the costume selection but the freedom of chasing a sugar high later into the night than I was usually allowed. I lived in a small community and was free to roam until after dark! It had never occurred to me, as a kid, that I was three times more likely to be struck by a vehicle on Halloween than any other day of the year.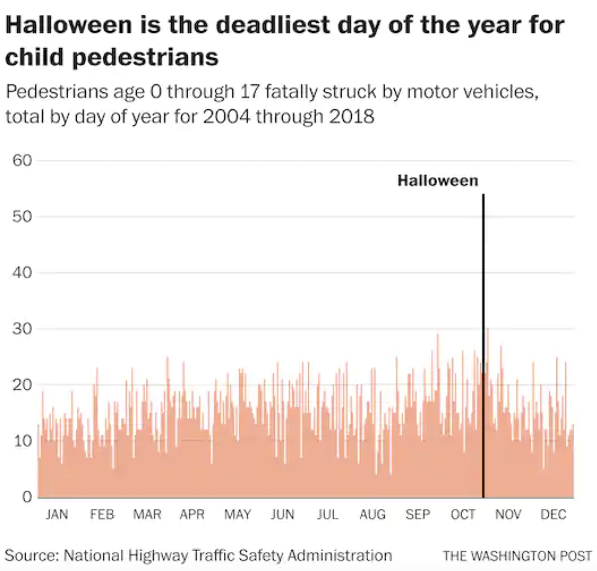 A lot can happen during the hubbub of trick-or-treating. Kids are running from house to house to set candy collection records, not going to the appropriate crosswalk and forgetting to look both ways before crossing the street. Or maybe they have a full-size pumpkin on their head with beady little eye holes, preventing them from using their peripheral vision and seeing oncoming traffic. Or maybe they are too young to understand the dangers of the night. Do you think kids fully understand this risk or are able to comprehend this risk?
As a solution, someone might say, "Tell the kids and drivers to watch out!" That may be helpful in bringing awareness to the potential dangers associated with the once-a-year holiday, but if it's my kids, I'm going to take additional measures to help protect them and reduce the risk of a safety incident. Just as this warning is too vague, we see similarly broad solutions working client issues every day. Some common ones that I have a hard time finding long-term value in are "retrain" and "remind them to do XYZ."
Adding Specificity to Solutions
In addition to reinforcing past best practices like look both ways before crossing the street and use crosswalks, I want to consider some additional solutions:
Switching to an area with less vehicle traffic (or perhaps no vehicles) or areas where traffic is specifically monitored and managed for trick-or-treaters.
To help ensure unobstructed visibility of traffic, costume design may need to be considered. I may attempt to limit the obstructions to my child's vision and/or hearing. Some websites even suggest adding items to the costume to make the child more visible (reflective tape, lights).
We can also remind the kiddos to be aware that drivers may not be able to see them, so if a car is backing up or turning a corner, stay out of the way – don't assume you've been seen.
From the driver's perspective, driving on Oct. 31 can be a bit nerve-racking because the kids are going to be in unexpected places, like not at crosswalks or on sidewalks. They may also be more excited and so running or moving more quickly. In addition, the lighting is darker as the seasons change, and kids are often dressed in dark costumes.
Knowing this is the case, it's especially important to take extra precautions as a driver. Solutions to consider beyond, "Look out for trick-or-treaters," may include:
Slow down, especially when backing up and turning corners.
It's obviously never a good idea to be on a cell phone, but any distractions in the car should also be minimized like loud music or eating while driving.
Drivers can also avoid routes that include a high volume of trick-or-treaters to minimize risk.
What's your risk tolerance this Halloween? Using this information, we can begin to build a Cumulative Cause Map™ diagram, a cause-and-effect analysis of failure modes (FMEA) to help explain how these accidents may occur, and hopefully, help develop more specific, actionable solutions to help prevent any incidents this Halloween. The Cumulative Cause Map diagram lays out the possible ways a pedestrian can be struck by a vehicle. The visual nature of the Map allows the reader to understand which causes may be controlled to reduce the risk of an accident. To read it, begin with the red box on the left and ask Why questions. For example, the safety goal could be impacted. Why? Because there is an increased potential for fatal injury (for pedestrians). You can continue to read the Map by reading toward the right. Click on the image below for a one page PDF download of the Cause Map diagram.
Although a lot of these are reinforcing type of solutions (e.g. communicate the importance of safety), it's a unique evening event that occurs once a year, so a reminder is warranted. Other solutions involving costume design and traffic control/mitigation will also help lower the risk of this type of incident from occurring.
Knowing the risks and considering and employing solutions to avoid a tragic accident can help you and your family have a happy, incident-free Halloween. For additional trick-or-treating safety tips, click here. This year, there's even more risks of a safety incident with the pandemic, for mitigating the risk of contracting COVID-19 this Halloween, click here.
Happy Halloween, I hope it's a safe one!