"A picture is worth a thousand words," or so the old adage goes. It's a saying for a reason. Visual aids like photos and diagrams can be immensely helpful and more effective than written or verbal words at communicating large amounts of information clearly. It's why we diagram cause-and-effect relationships using the Cause Mapping Investigation Template in Microsoft Excel.
The 19-worksheet Cause Mapping Investigation Template in Microsoft Excel (which is free to download) was created to allow users to document, analyze and present their entire root cause analysis within one file using the software you probably already have on your computer. Each worksheet has a specific purpose within the investigation and allows you to document the different parts of a complete incident investigation. Instead of a 100+ page report, this one file allows you to capture a basic, mid and detailed level analysis, along with all the evidence, photos, diagrams and drawings. Different policies and procedures, PDFs and PowerPoint slides can be housed within one file. Click here to see a video overview of recent updates to the template as well as how the template can be used for your complete incident investigations.
In this blog, we're singling out the value of two worksheets in particular: the diagram and photos worksheets. These worksheets are part of the information tools and resource section that support the three basic problem-solving steps.
As an investigation progresses, visual aids, in addition to the Cause Map™ diagram, can provide better insight into how an incident occurred and how a similar issue can be prevented. Having those visual elements embedded in your investigation file, provides easy access for explanation and allows you to easily share the information with team members.
Diagram
This worksheet is used to paste in drawings or charts. Any relevant machinery diagrams, site maps or drawings can be placed here for reference.
You can even build your own diagrams of a job site, room layout, tool, equipment machinery or other relevant graphic using the variety of drawing tools within Excel like inserting shapes and text boxes on a drawing board with the second cursor.
In the below example, I built my own diagram of a car accident within the template.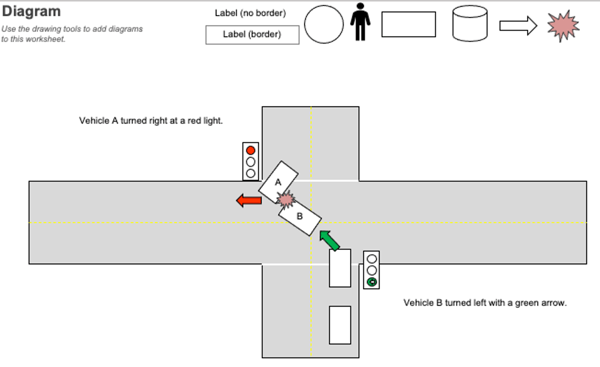 Photos
On this worksheet, you can insert photos collected as evidence during the investigation. All of your photos can be resized, condensed and organized to display clearly on one worksheet. So an image that was 10 MB and wouldn't send via email can be reduced to just a few KB and in one place with all of the other photos collected from the incident. Everything is in one place and can be sent together.
In addition, photos can be labeled with text boxes and notes to better explain the visual and what happened. So if a person receives the file, they can immediately understand what the photo shows and why it's relevant.
In the below example, I inserted a photo of the damage to one of the vehicles and then used the template to label and mark it up.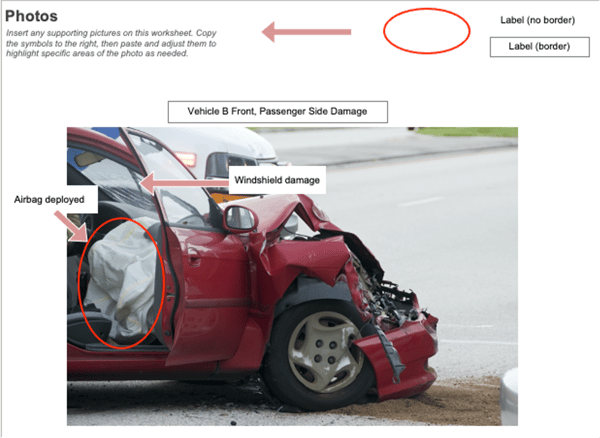 Having relevant diagrams and images with explanations and labeling can help create a more robust understanding of an incident—without ever leaving the investigation file. To learn more about how to use the Cause Mapping Incident Template in Microsoft Excel, join our free 45-minute webinar " What You Need to Know About the Cause Mapping Template" this Friday, January 15. Don't worry if you can't make it, register ahead of time, and we'll be sure to send you the recording after its conclusion.
For more in-depth instruction on using the Cause Mapping method on your incident investigations, register for one of our upcoming online short courses focused on mastering your skills in Microsoft Excel or one of our other investigation topics. See the full schedule of upcoming short courses here.